Searching for someone's email address from their Youtube account is not that complicated. You need to follow our tips and tricks to find out that contact information in parallel with other details.
In fact, users on Youtube can share their Gmail address or other information under their profile details. But that's not always the case with other YouTubers who hide their details and prefer different ways to receive messages if they want that because so many profiles are fake and not real. In today's guide, I'll show you how to find out anybody's email from their Youtube channel in easy ways.
Search Youtube directly
Users on Youtube have the option to show their contact email directly but with a simple trick. That's because the platform need to fight spam and lots of web crawlers try to extract the email address of millions of YouTube users, and then bombard them with spam messages and even fraud attempts. That's why every account on Youtube is protected from that by hiding the email address of the admin behind it.
Now, here is how you can see the email address of someone on Youtube. Start by visiting the person's account, then click on the "About" from the account details. It's the last one on the menu, like the following example.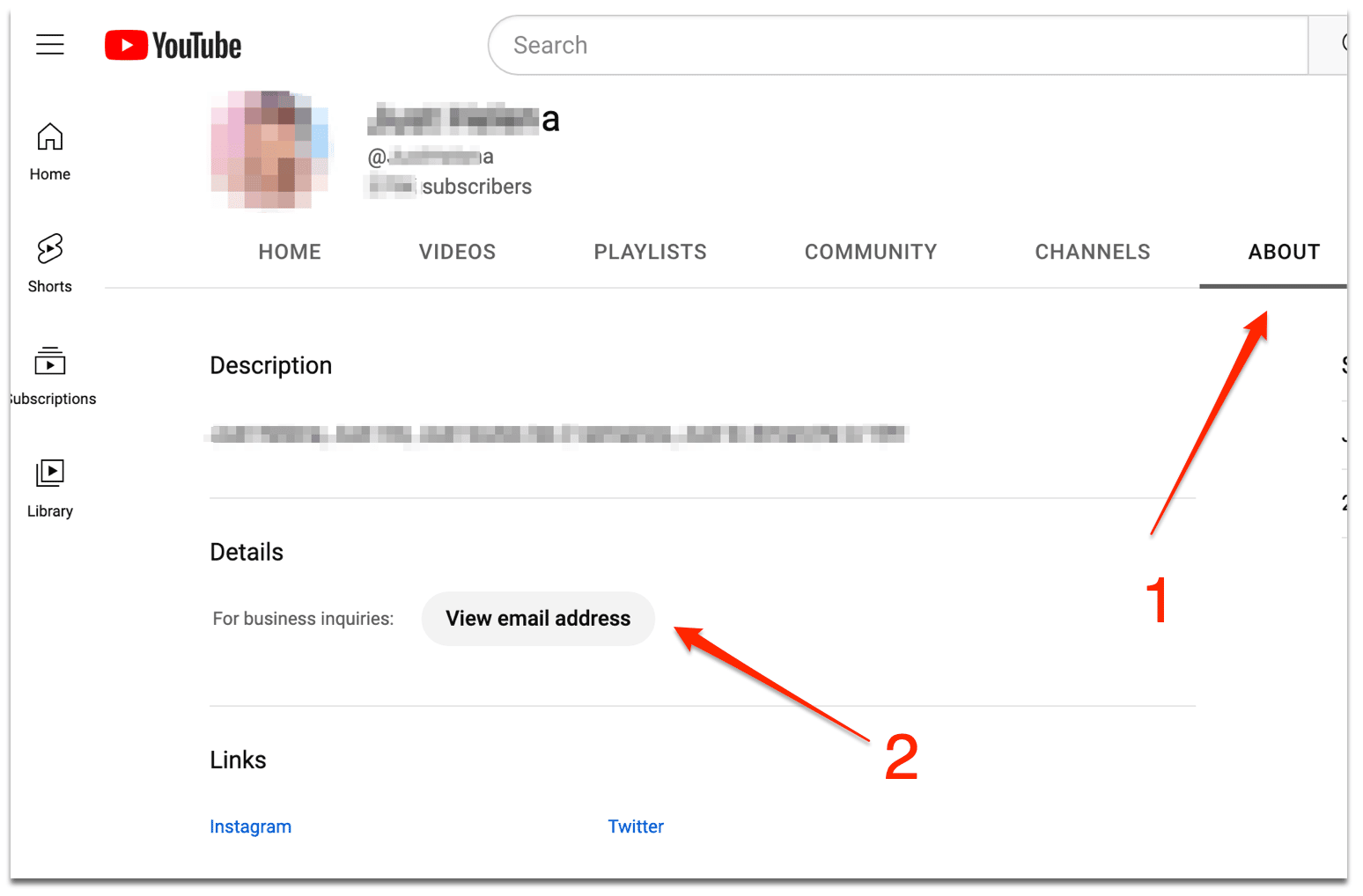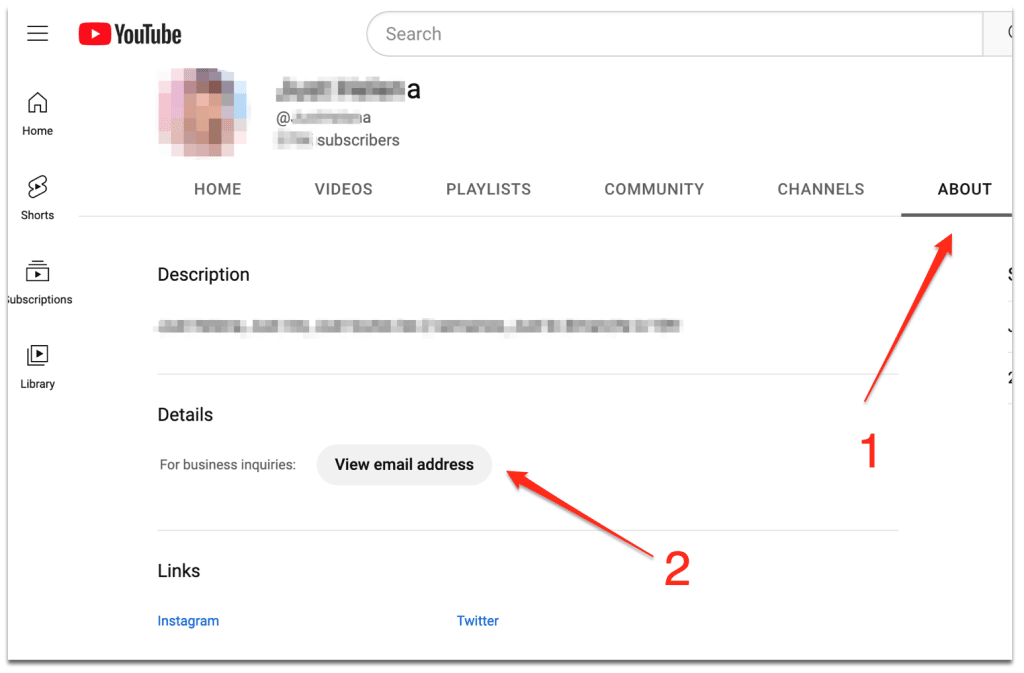 Now, you may see some description information about the user if they have that, of course. After that, there should be other information under the "details" section saying "View email address".
Youtube may require human verification with ReCaptcha, which is normal to protect the account from bots. So, click on that and type the submit button next. Finally, you'll see the email of that person on Youtube with blue color.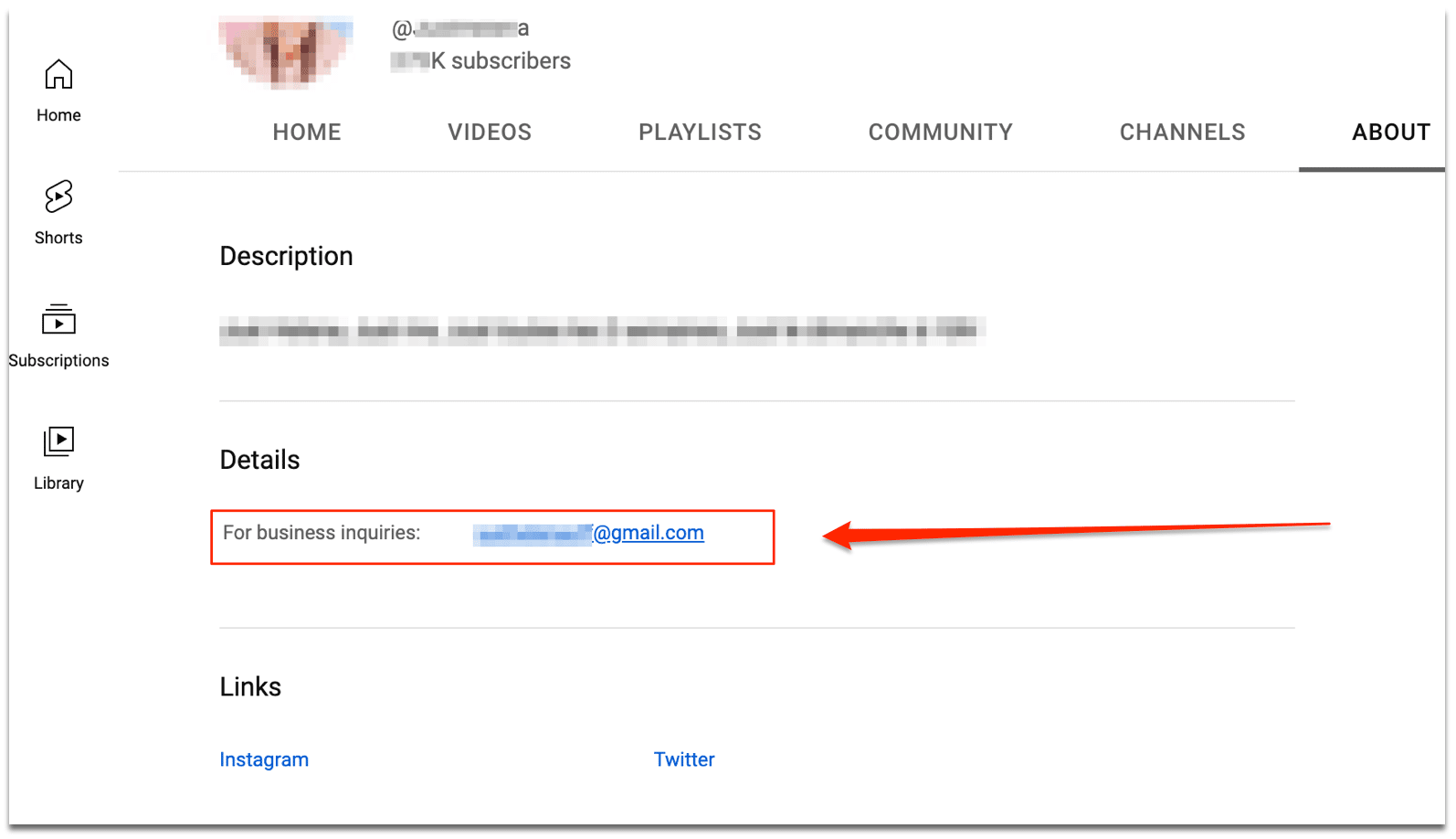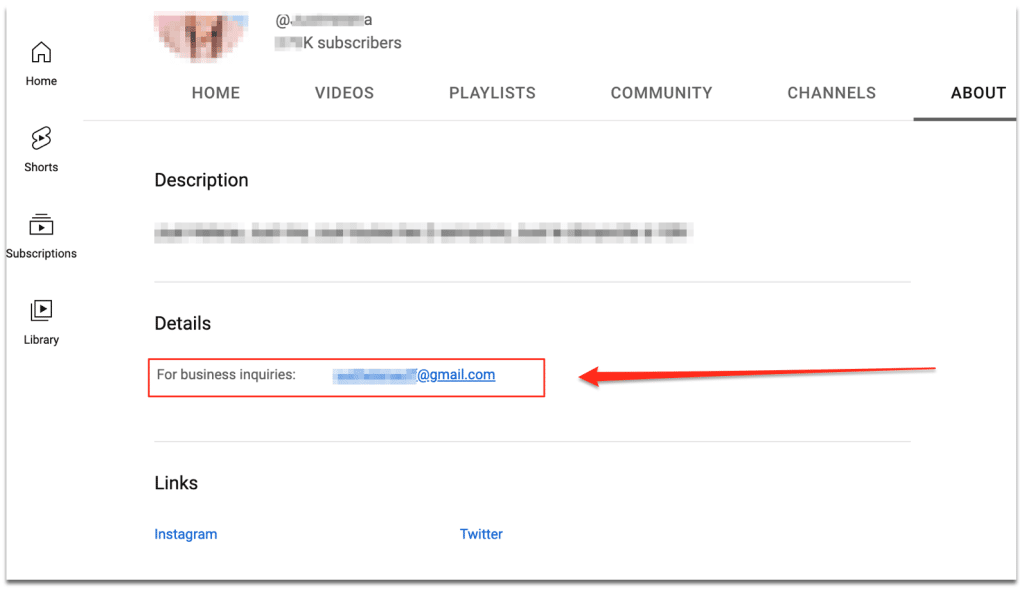 As you can see, there is a Gmail address under the Youtube details. That's not all; you may also find the social media accounts of that user with direct links to their pages.
Find their emails by name
The best option for this search is Instant Checkmate. It's a complete online background search system that searches for public records, contact details, and more. All you have to do is type the name of that person you see on Youtube, or you already know. Next, validate and see the scan working in the background. If there are any details found on that Youtube name, you can get the search report with lots of data, such as the following:
The email of that user
Their cell phone number
Any photos
Social media accounts with direct links and usernames
Criminal records
Traffic records
Ownership details
Their home addresses on the Map
History of addresses
Their associates, relatives etc…
To view the email address of people you search for by name, click on the tab called "Contact". In the following example, I typed someone's full name found on Youtube. Then, I got multiple email addresses the same person used, including some on Gmail and others on Yahoo, Hotmail, and AOL.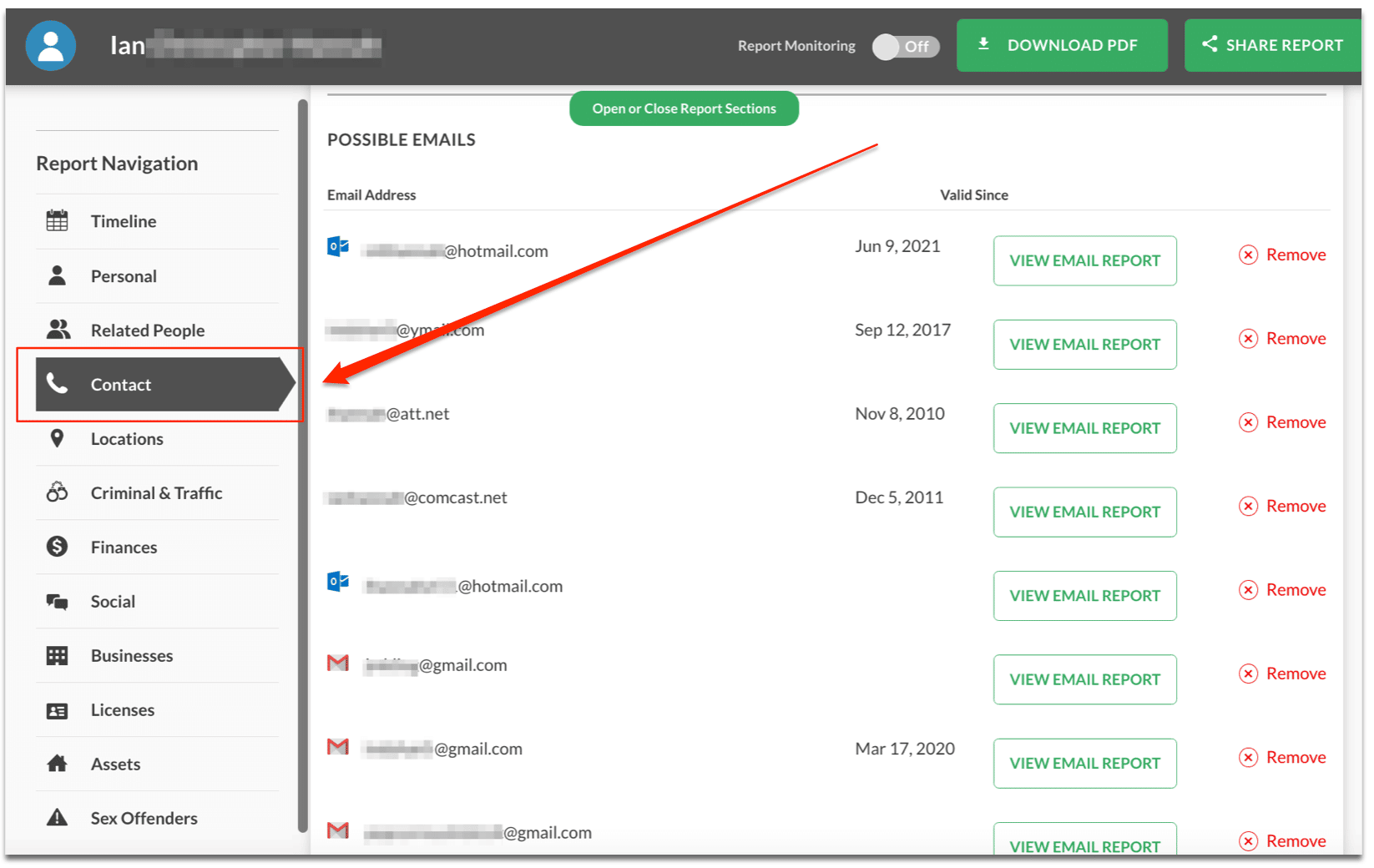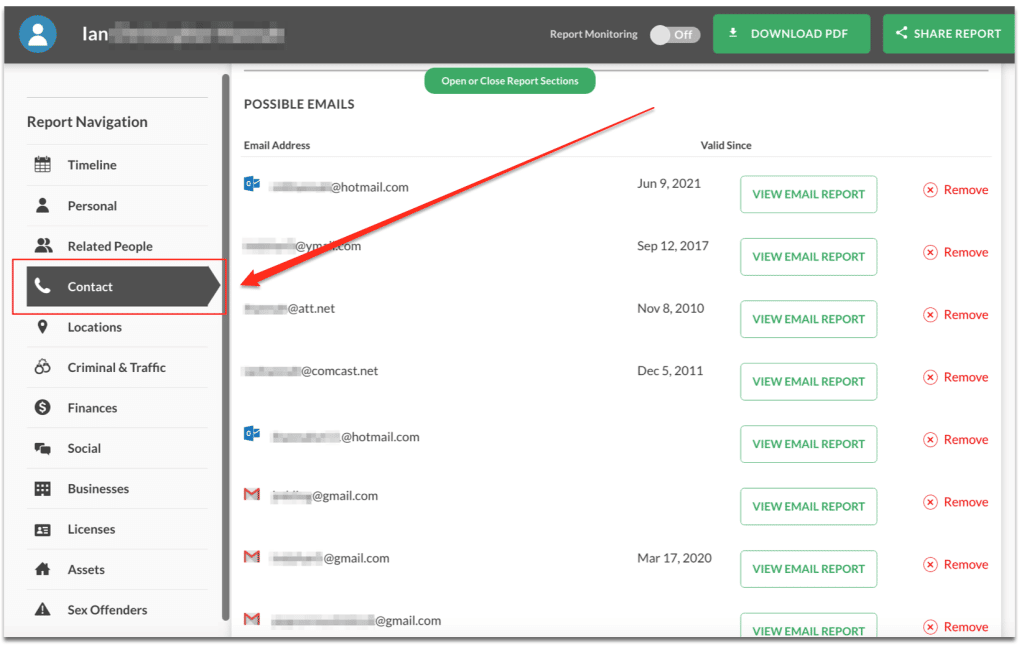 The best thing about his method is its effectiveness. Instead of wasting time with Google search or social media networks, you can get all the details in one place. The dashboard comes with organized tabs that clearly list the data. Additionally, you may choose to export that report as a PDF for later use.
Compared to other search methods, searching for someone's Youtube email is easier when you use the real name of the person. That said, if you see a long list of profiles with the same name, filter that by city or state, and you'll get the exact person's details, including their emails.
Reverse username search engines
Here's how to get someone's email from Youtube, first visit Social Catfish and type the username of the same Youtube account. After that, click on search and wait for the system to collect data about that username from various sources online. Finally, you'll see a report with information about the person behind that Youtube username, such as the following:
Their full name
Emails addresses
Phone numbers
photos
Addresses and even criminal records when that's possible
Here is just one example where I found a friend's email on their Youtube with a reverse username search.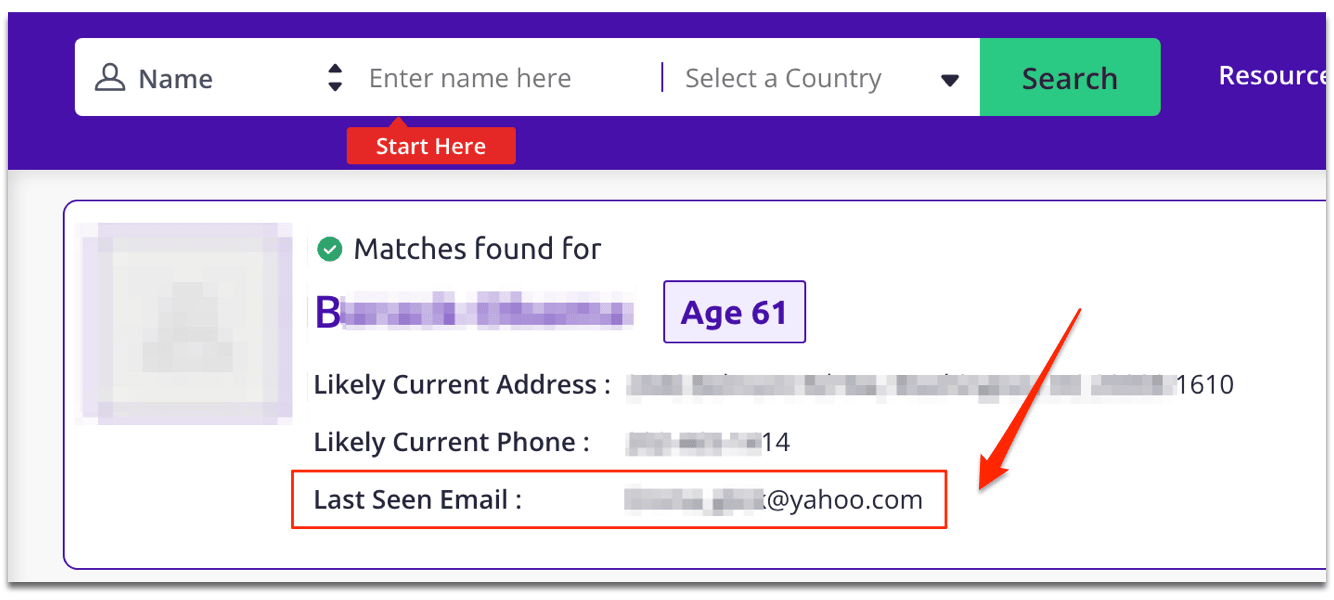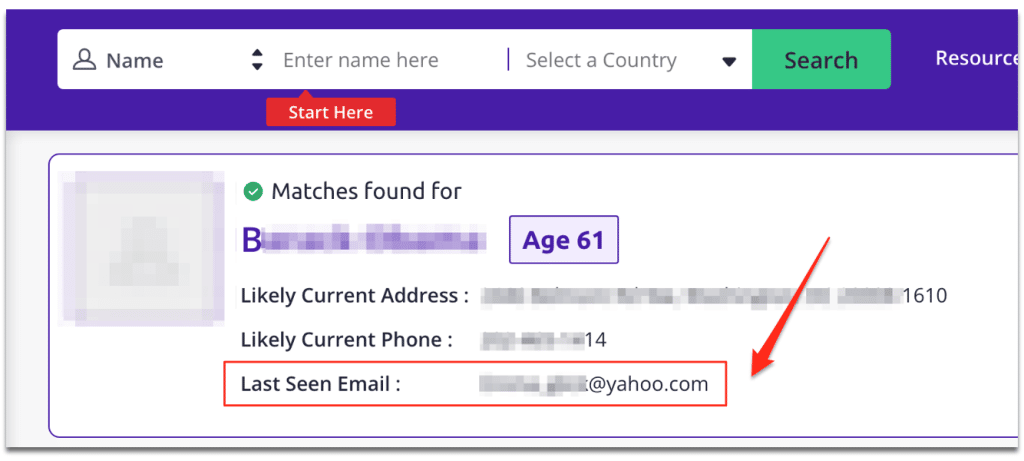 What if there is no email contact there?
Not everyone lists their email on Youtube, and there are many reasons. So, that could mean the user of the channel is not ready to receive emails for business inquiries or for any other reason. So, it's possible that the account is fake or because there are other social accounts listed there.
In other words, that Youtuber wants to connect with others through their social profiles on Twitter, Instagram etc…In this case, just visit any of the profiles listed under their details and send them a message through that social platform instead of email.
Finding someone's email through Youtube is always possible if you link the details to each other. If you can see social accounts like Instagram, for example, check it out and see if that person is showing their email there. In reality, many users prefer showing their emails on Instagram and not on Youtube.
Conclusion
Now you know how to find out someone's email on Youtube, start with the Video platform first and see if there are contact details there. After that, search for the username or the name of that person with Google or other tools to get their email contacts.
In all cases, there could be social media accounts on that Youtube channel with links to pages or sites that the person owns. In addition, you can verify accounts and see the information linked to them with search engines to tell if they're real or fake users.