When you need to find information about someone, you can use one of the most popular people search sites to start the investigation. But if you have no idea about that, you may use a website that never helps discover any information you searched for. So, in today's guide, I'll show how you can investigate someone online through trusted sites and systems that work like no others.
That works for finding out the real names of someone, their hidden accounts online, and even what they have as criminal records, addresses, emails, phone numbers, and photos.
Best people search sites to investigate someone
Before you start investigating anybody, always collect as many details as possible about them. That should help you search and then discover any hidden information on the Internet. But if you can't get any new information about the person you like to search for and identify, then it's time to run a deep search for them with the following tools and methods.
Looking for fast results?
I tested the best tools that help searching for anyone's details online in seconds. Just use one of them and access lots of data.
Google
Google, without a doubt, is the best website to investigate someone for free. You can start the investigation by typing the person's name. Next, read what Google shows as results. You may discover hidden details like public information that another site or magazine listed about that person if he/she's famous. Or you may find other information about the identity of that person on social media sites, including Facebook and related platforms.
TruthFinder
With TruthFinder, you have some of the best search solutions to investigate people online. That includes searching for someone's details with his name, phone number, email, or even other information. TruthFinder, as its name suggests, helps a lot when it comes to searching the truth about someone with an Internet search engine that's dedicated to that specific mission.
To start your search, add the user's name and state or city to the search box and validate to begin. Next, wait for the search to be done. Next, in the report, you may get all the details that you searched for. So, here are some details you can get about someone when investigating them with this website:
Their address
Education
Full name
Relatives and associates
Any phone number
Email address
Their social media profiles
Possible photos online
Criminal and arrest records
Traffic records and more…
Social Catfish
The Social Catfish platform offers one of the best services to investigate someone through their search specialist service. That service comes with a deep web scan done by an expert in people search technology, which saves time and effort. However, if you want to run the search yourself, the site is one of the best options when it comes to searching for people's social media profiles when typing their names, usernames, or emails.
Look at the following screenshot; you can see the social profiles of someone. Also, there could be phone numbers and, of course, names.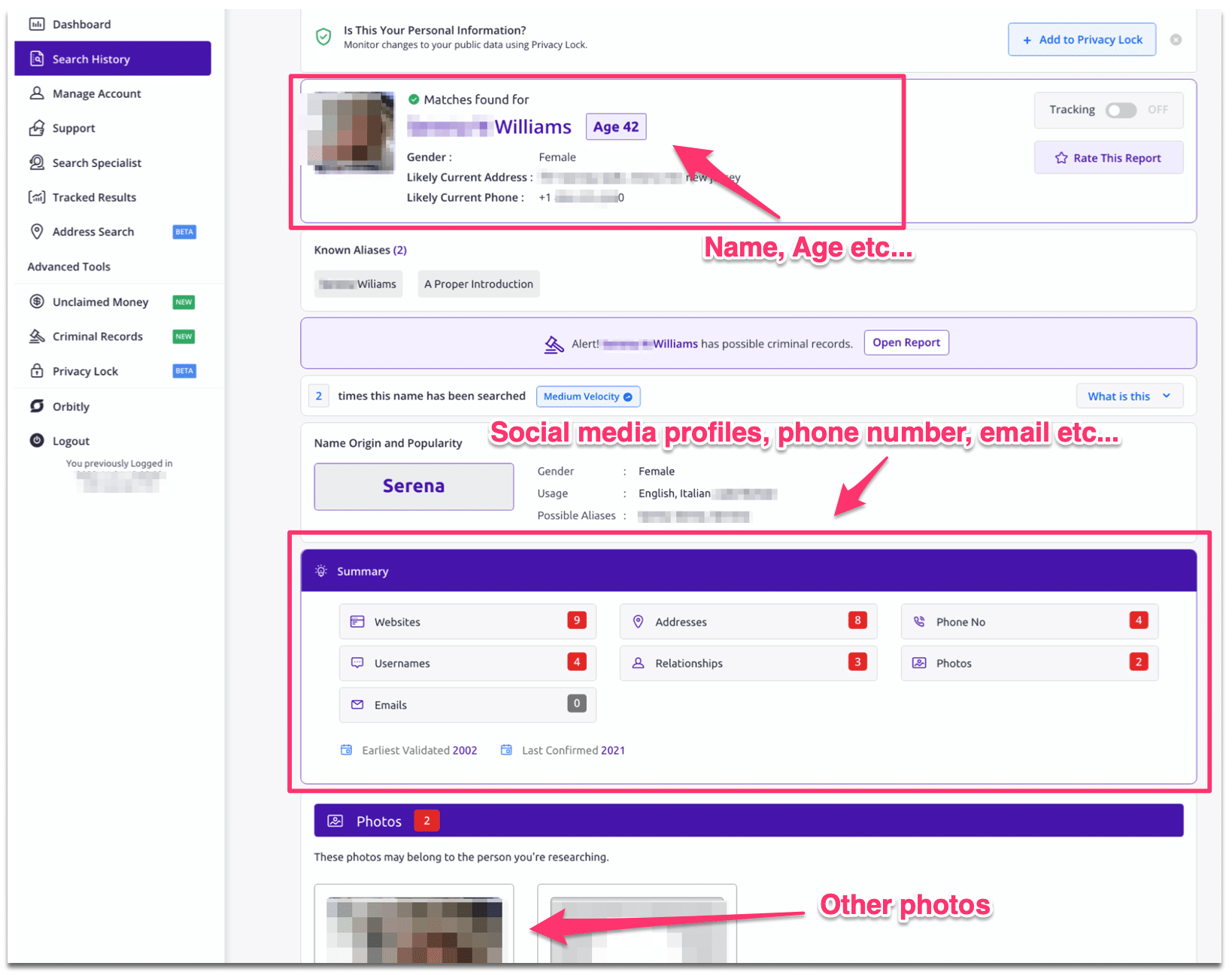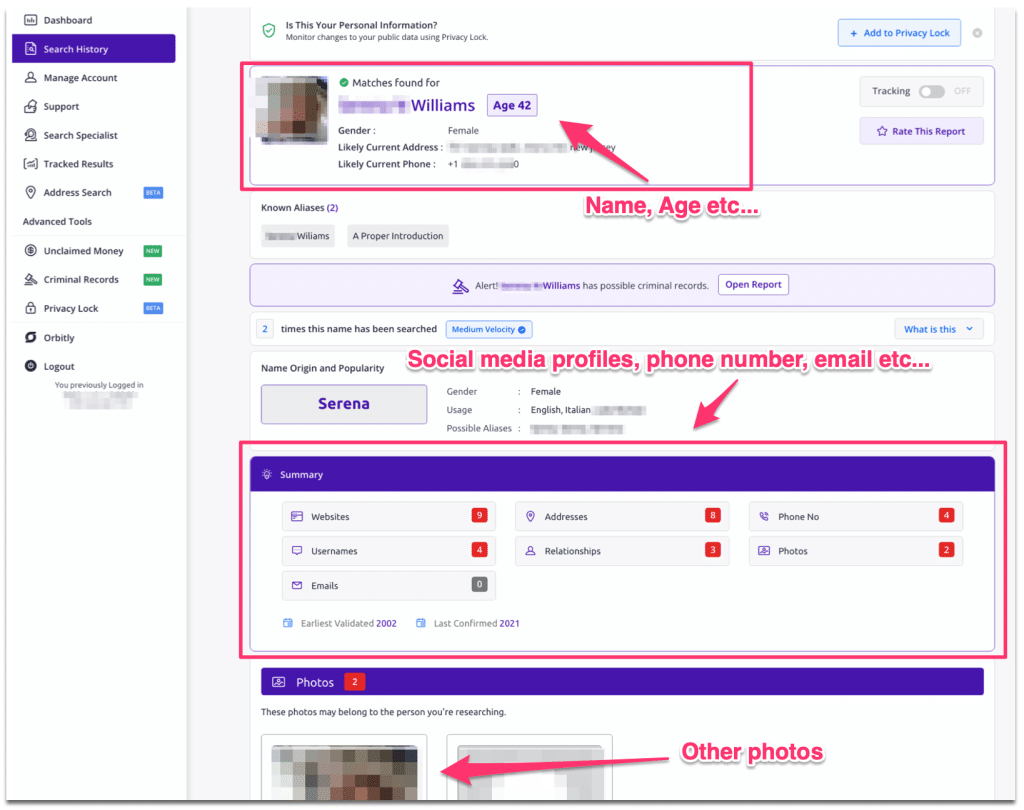 Image search sites
Take advantage of this unique search method if you have photos of the person you want to investigate. By searching for that person's picture with tools like Social Catfish or Google Images, you get other data sources about them. So, you may have an idea about the person, like their first name and location.
Additionally, you can know whether they are scammers or not. Now, by searching for someone by their picture online, you can see if they have profiles on Facebook or Instagram, for example, and read about them directly on the app.
LinkedIn
If you're trying to find information about someone through the Internet, then LinkedIn is an excellent site to start with. When using the LinkedIn search filter, ensure you add the full name of the individual you want to investigate and add as many details as you have. These details help the system to filter out unrelated profiles and posts with similar names and data.
LinkedIn is known to be effective when searching for someone's business details. But also, it's a great source of information to tell whether someone is real or fake. In addition, you may find personal information about people with their education, past jobs, actual addresses, and more of that. Even more, the site can show you the portfolio of the person you want to investigate.
Public record sites
Searching for someone's public records is free, even if it takes time to do all the scans. However, with the following sites we tried, you can quickly search for people's public records without wasting time. So, here are the best sites to search for people's details online and for free:
NamUs is the National Missing and Unidentified Persons System. It's an excellent site to investigate someone who's missing or has a record found on the databases. The search is free, and it combines different levels of investigations by name, fingerprint, DNA, and more. That makes this site one of the most trusted agencies for personal investigations in the US.
The site has a good internal dashboard for members to find missing person cases by state, city and get most of the details they need online. But of course, this won't be that good for all types of investigation. That's clear, especially if you'd like to see whether someone is a scammer or not on dating sites. Other sites can help better with this, like the first option.
MyCourtRecords is a statewide search system that you can use online and request information about the criminal history record of someone by name. But it's not for free, and I find it to be too expensive with their $95 fees for just one request that's an exact match. It means they only search for the exact name you provided them and not the related ones.
Keep in mind that you must email the completed criminal history record search (CHRS) through an online form. They'll reply with a report by email too. So, you need to submit the primary email you use and not a secondary one you check rarely.
The National Archives lists public records in the US that are updated regularly by states. That could help you run a full investigation on someone without the need to hire a private detective. But it won't be that fast to learn everything you need about someone just from their name with this site. So, use this platform with other options on this page to diversify your research sources.
A good feature of this people search website I found useful is the ability to find federal court records by state or city. That saves time searching for a long list of records about someone's name that looks similar to others.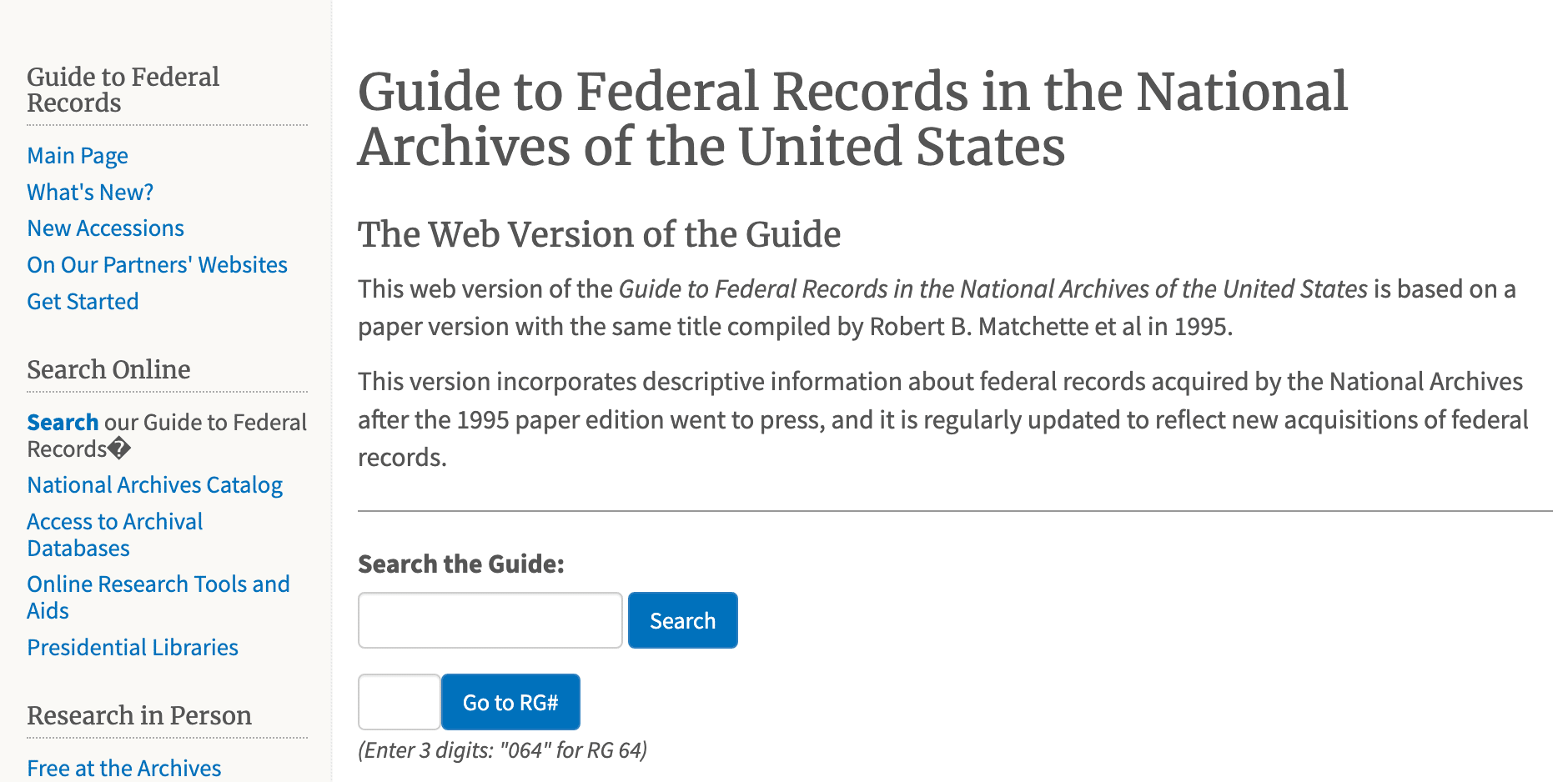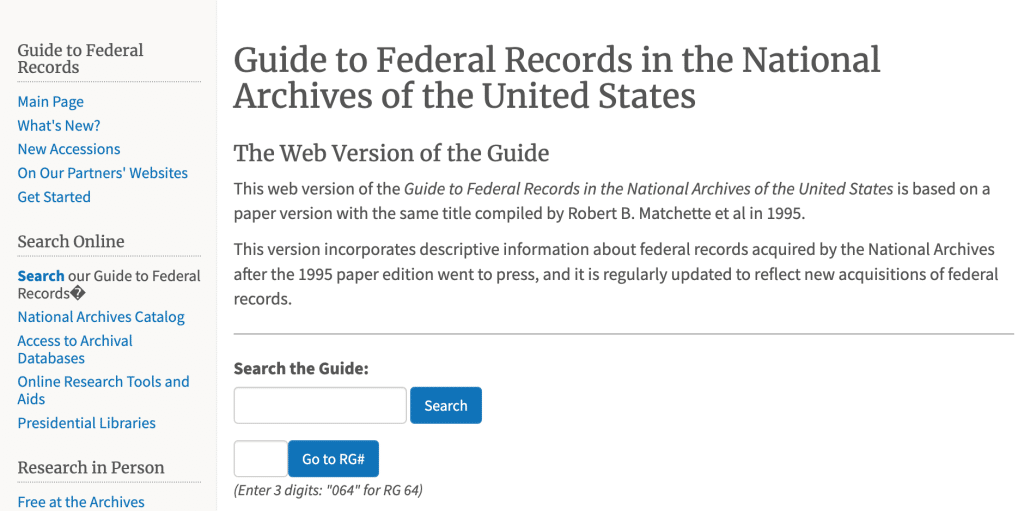 The Access to Archival Databases is another source of information to investigate people online. The best thing about this site is that it indexes records from over 200 years ago. Which means you can investigate people from the year 1800. But of course, if you need to learn more about someone from 1991 to now, that also works with textual documents or photographs. It's a whole library of information to browse by categories like civilian, casualties, military, etc…
Facebook
Not everyone has a Facebook account. However, most people use the platform to stay connected with their family members, friends, and everyone else. So, there is a high possibility of finding information about people when searching for their names on Facebook. Thus, Facebook is on the top list of sites to run online investigations about a specific person.
If you want to find out whether someone on Facebook has photos, try to be as clear as possible when searching. That means if you want to investigate someone with the name of "john" and he lives in Los Angeles, then add that in the city of the search filter field. Add other details as needed, like their education, date of birth, age, or any additional information. These details can let you filter the search on a specific person's profile on Facebook and collect the associated data faster.
The Internet Archive
As its name suggests, the Wayback Archive collects billions of details, including texts, images, videos, and music from around the world. It's the biggest archive of the Internet that has big servers and volunteers. Consequently, you can search for someone's details if they have previously published somewhere on the web. Just type a keyword and see the related search pages you get. Remember that these are the old website versions you may see differently today. But what you see is a capture of their pages in the past with the exact time and date.
Conclusion
Now, you have all the websites you need to run an investigation on someone and learn more about them. You can search and find their names, phone numbers, education, emails, and even social media accounts and more data if that's possible. Always start your instigation by searching for public records with Google, as that's free. If you need more details, choose a people search engine that can show you a full background search report about them.